Tyler Harm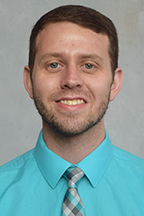 Education & Certifications
Diplomate, American College of Veterinary Pathologists, 2021
PhD, Veterinary Pathology, Iowa State University College of Veterinary Medicine, 2021
DVM, Iowa State University College of Veterinary Medicine, 2017
BS, Biology, Buena Vista University, 2013 
Teaching
V Pth 377 -- Case Study III
V Pth 403X -- Introduction to Pathology II
V Pth 570 -- Systemic Pathology I
Research Focus & Interests
Honors & Awards
Young Investigator Award, Lysosomal WORLD Symposium, 2021
Research Excellence Award, Iowa State University, 2020
C.L. Davis and S.W. Thompson Foundation DVM Student Scholarship Award, ACVP Annual Conference, 2019
American College of Veterinary Pathologists Outstanding Achievement, Proficiency and Interest in Veterinary Pathology Award, Iowa State University, 2017 
Veterinary Medicine Alumni Association Scholarship Award, 2017
Academic Excellence Scholarship, Iowa State University, 2017
Lora and Russell Talbot Scholars of Veterinary Medicine Scholarship, Iowa State University, 2014- 2017
Memberships
American Association of Veterinary Laboratory Diagnosticians (AAVLD)
Charles Louis Davis and Samuel Wesley Thompson Foundation
Iowa Veterinary Medical Association (IVMA)
Selected Publications
Google Scholar: https://scholar.google.com/citations?user=vUMmYFIAAAAJ&hl=en&oi=ao
Faivre C., Harm T., Smith J., Haynes J., Dolman T. Mammary Carcinoma in A Geriatric Alpaca. Vet Record Case Reports, April 2021
Harm T.A., Hostetter S.J., Nenninger A.S., Valentine B., Ellinwood N.M., Smith J.D. Temporospatial Development of Neuropathological Findings in A Canine Model of Mucopolysaccharidosis IIIb. Veterinary Pathology. November 2020.
Michael A.V., Greenlee J.J., Harm T.A., West Greenlee M.H., Moore S.J., Zhang M., Lind M.S., Smith J.D. In-Situ Temporospatial Characterization of The Glial Response to Prion Infection. Veterinary Pathology. 2019.
Smith J.S., Harm T.A., Greenlee J.J. Pathology in Practice: Pituitary Mass in An Ewe. Journal of the American Veterinary Medical Association, April 2019.
Smith J., Klostermann C., Harm T.A., Breuer R., Kovalik D.A., Bornkamp J., Yaeger M.J. Abomasal Hamartoma in A La Mancha Wether. Vet Record Case Reports, June 2017.