Student Counseling Services is providing in-person and telehealth services which includes brief phone consultations, crisis services, video based counseling sessions and groups. To initiate services or to consult please call 515-294-3297 or email ISU CVM Counseling.
SCS services are fully accessible to students following our standard schedule – Monday, Tuesday, Wednesday and Friday at vet med (typically by appointment) and on main campus at 515-294-5056, Monday through Thursday 8-3 to start services and Monday through Friday 8-5 for crisis services.
Services are provided through telehealth and all forms are completed online.
In person services will be focused on crisis support while routine and ongoing care will be provided through telehealth.
We will continue to offer our full range of services using our stepped care model (consultation, self-help, referral support, crisis intervention, individual counseling, groups and outreach presentations).
We have added service options for Fall including Therapy Assistance Online (TAO) and Let's Talk virtual programming to increase support, reach, and access for all students.
We have a designated space for you here at cvm to hold your telehealth appointments if you do not have confidential space accessible to you.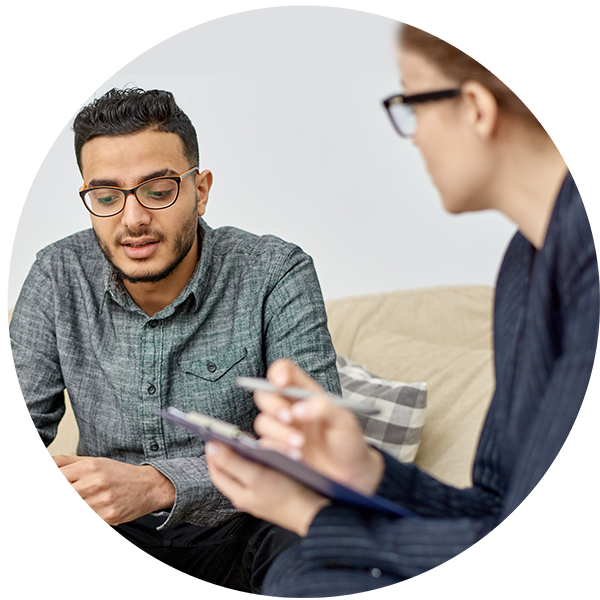 Student Counseling Services (SCS) provides clinical, campus-based services to help students achieve their educational and personal goals.
Counseling In-House at CVM
SCS at the College of Veterinary Medicine provides accessible, confidential, no-cost, clinical counseling to Vet Med students on site. We are located within the OASA department in 2270 Vet Med.
While Student Counseling Services (SCS) uses a brief therapy treatment model that is time-limited, students may return as often as needed throughout their academic career with ISU. Students can always start or restart their counseling services with SCS. We welcome questions about how services work, so when in doubt, please call us or stop by!
What is counseling?
Counseling is a collaborative relationship between the counselor and client which empowers clients to accomplish their goals. Counselors provide non-judgmental place for clients to address their personal concerns and develop insight.
Individual counseling can help with a variety of personal topics, including:
Adjustment concerns
Identity and personal goals
Family and relationship concerns
Questioning and coming out
Academic concerns
Career/Major concerns
Depression
Anxiety
Imposterism
Stress
When should I seek counseling?
Seek counseling early, before problems get out of control. Consider counseling if you're experiencing sadness, lack of motivation, excessive worry, a recent loss, changes in your ability to go about daily life as you used to or find yourself abusing drugs, alcohol or sex to cope.  Students also go to counseling to help with academic or career indecision, test anxiety and stress.
Still unsure? Try this self-assessment
How do I make an appointment?
For counseling appointments at Vet Med, please email ISU CVM Counseling and include days and times you are available. SCS on main campus offers walk-in hours Monday, Tuesday, Wednesday and Thursday 8 a.m.-3 p.m
SCS Services and Hours
Student Counseling Services (SCS) uses a brief therapy treatment model that is time-limited. This model is offered on main campus in multiple formats including group therapy, workshops, and individual counseling though mainly individual counseling is offered at Vet Med. The brief therapy model is focused on helping students effectively meet a desired change or goal. For students receiving individual therapy, most brief therapy concerns can be addressed in 4-8 sessions and individual sessions are typically scheduled every other week. In keeping with the model, students whose needs require long-term and/or intensive support will generally be referred to community resources for ongoing treatment.
Hours of Operation & Process: SCS Counseling is typically available at the College of Vet Med on Monday, Tuesday, and Wednesday 8 a.m.-5 p.m. and Friday afternoons with some flexibility for Tuesday evening hours.
During the academic year, SCS on main campus is open Monday–Friday, 8 a.m.–5 p.m. and is committed to providing easily accessible services to students through its walk-in services. Walk-in hours are available 8 a.m.–3 p.m., Monday–Thursday for students to meet with a counselor for an initial appointment.