Philanthropy Impact
Even with miles of hallways throughout our facilities, it would be hard to take a walk without seeing the impact of philanthropy on our world.
From the Hixson-Lied Small Animal Hospital to the Fish Tank Lobby and all the named rooms in between, private donations helped build or modernize vital work and learning spaces. State support remains crucial, but it will never return to the levels of the past. Philanthropy is more than the margin of excellence today – it's fundamental to our mission.
Arthroscopy towers, Omnicells, microscopes and even blanket warming cabinets are available in part due to donors who care about our efforts. Even when gift dollars don't buy equipment directly, they often free up the funds that do.
Beyond the endowed chairs and professors, every single house officer's compensation includes gift money. Can you imagine our teaching hospitals without the support this great talent?
Half our DVM students pay less tuition thanks to scholarships from an alum or client they probably never met before. Think about the difference this makes for each scholar's family.
Selected Funds or Choose Your Own Designation
Most of our donors haven't set foot in our college or hospitals this year, but they continue to give because of the importance of our work. Directly or indirectly, we ALL benefit. And whether it's a healthy pet or an exceptional new vet, the ripples of this generosity spread far beyond our campus and state.
This year, we have selected five funds that support our work in a variety of important ways. When you hit the "Make a Gift" button, you also have the option of writing in your own designation. Beyond showing our external community that we believe enough to give too, your 2022 contribution this month helps address a need or add to an area of strength in veterinary medicine at Iowa State. Either way, you will make the institution where you devote so much time and energy even greater.
Dr. Frederick Douglass Patterson Opportunity Fund – Help create a more inclusive institution as a stepping stone to a more representative healthcare industry.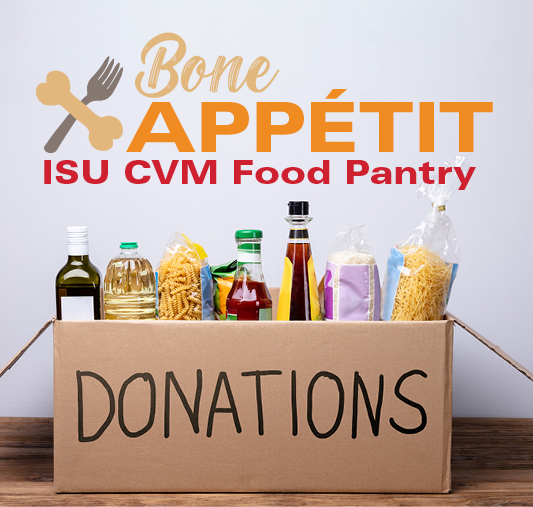 Veterinary Medicine Food Pantry Support Fund – In a DVM student survey this fall, more than 30% of respondents reported dealing with food insecurity issues. More than 40% of respondents indicated some level of likeliness to use the new food pantry.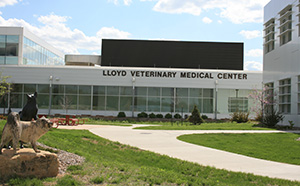 Lloyd Veterinary Medical Center Excellence Fund – These fully discretionary dollars can provide immediate resources for needs throughout any area of our hospitals.
Veterinary Diagnostic Laboratory Building Fund – Iowa State and our college are responsible for $11.5M for Phase I of this key contributor to animal health and agriculture regionally, nationally and globally. Every contributed dollar frees up resource for people and programs in the VDL and beyond.
Veterinary Medicine Student Experience Fund – Gift dollars in this unique fund operated by OASA are deployed in full each fiscal year, so resources for student emergencies and programming must be replenished.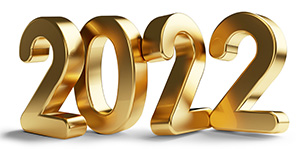 Thank you for your generosity and for making a difference in yet another important way!