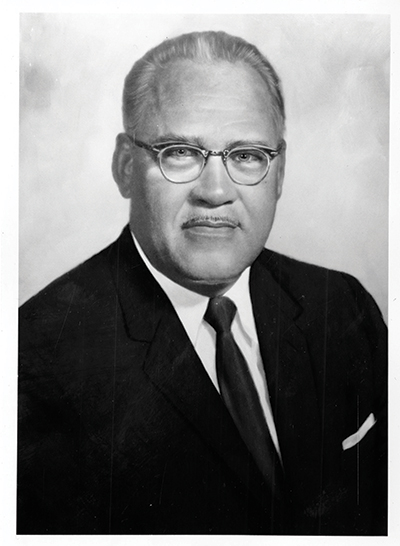 Founder of the United Negro College Fund. President of Tuskegee University for 20 years. Founder of Tuskegee College of Veterinary Medicine. Driving force behind the formation of the Tuskegee Airmen during World War II. Recipient of the Presidential Medal of Freedom.
Dr. Frederick Douglass Patterson's career had numerous trajectories. His career roots date back to veterinary medicine and Iowa State University's College of Veterinary Medicine. Dr. Patterson is one of the most notable and historic difference-makers in Iowa State history. His influence is not only felt in veterinary medicine and higher education, but in each of us through the liberties we cherish.
This year, the College of Veterinary Medicine is celebrating the centennial of Dr. Patterson's graduation class. He was one of 20 men who graduated with Doctor of Veterinary Medicine degrees in 1923. Four years later, Dr. Patterson earned a master's degree in veterinary pathology from Iowa State.
"Dr. Patterson should definitely be considered a giant of higher education, right next to other education pioneers of the day," said Brian Bridges, vice president of research and member engagement of the United Negro College Fund. "He is one of those unsung heroes of the 20th Century who should be celebrated because his contributions literally changed two fields for the better – the postsecondary education landscape and America's World War II efforts."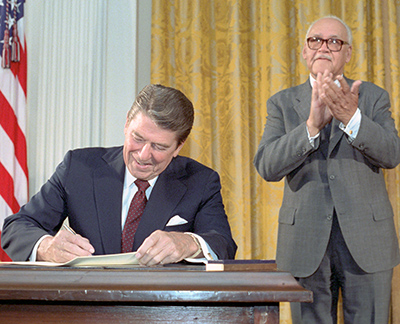 Dr. Patterson was a champion for human rights, equality and opportunity for all. His vision and courage continue to open doors today. During his lifetime (1901-1988) he became one of only three Iowa State University graduates to be recognized with the Presidential Medal of Freedom – an honor reserved for those who make an especially meritorious contribution to (1) the security or national interests of the United States, (2) world peace, or (3) cultural or other significant public or private endeavors.
Born in Washington, D.C., Dr. Patterson attended Prairie View Normal School where he met Dr. Edward B. Evans, who also graduated from Iowa State and the College of Veterinary Medicine (1918).
Evans became a mentor to Dr. Patterson and encouraged him to enroll at Iowa State to earn a veterinary degree. Even though Dr. Patterson was the only African-American in the school during his tenure, he wrote years later that his experience in Ames was a positive one.
"In the veterinary program, I did not feel odd being a part of the group of students working in the veterinary clinic although I was the only black person there," Dr. Patterson wrote in his autobiography, Chronicles of Faith. "The absence of animosity encouraged me to see veterinary medicine as a field in which I could practice without being hampered by the racial stereotypes and obstacles that would confront me as a medical doctor, for example. I found the teachers of Iowa State helpful whenever I approached them. Educationally, it was a fine experience."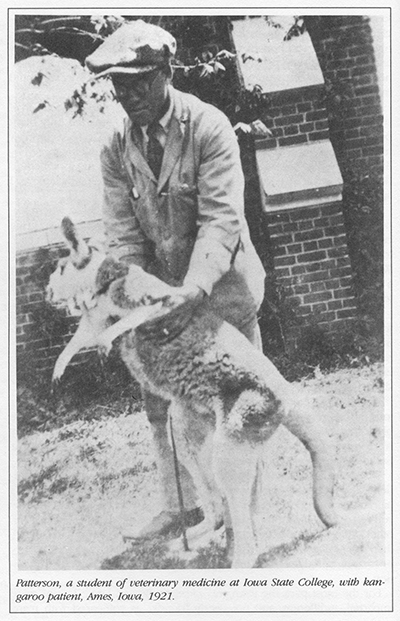 After graduating from Iowa State, Dr. Patterson became the director of agriculture at Virginia State College before moving to the Tuskegee Institute where his brilliant career moved forward.
He became Tuskegee's president at age 34 in 1935 and for the next 20 years transformed Tuskegee into a full-fledged university with graduate programs that continue to this day. In addition to spearheading Tuskegee's engineering and commercial aviation programs, Dr. Patterson founded the School of Veterinary Medicine in 1944.
That same year, he founded the United Negro College Fund, a philanthropic organization that funds scholarships for black students for 37 private, historically black colleges and universities. The organization has raised almost $5 billion for scholarships since then.
"I do not believe the UNCF would exist today, or if it did, it would not have the same lengthy and impactful legacy – one that spans almost 75 years – that it does today without Dr. Patterson's leadership," Bridges said.
Patterson's legacy continues at Iowa State, Tuskegee and the United Negro College Fund where the Frederick Douglass Patterson Research Institute is the nation's foremost research institution impacting educational issues facing African-Americans from preschool to adulthood.
"Dr. Patterson's accomplishments and his dedication to providing educational opportunities to disenfranchised populations, particularly African Americans, make him a figure worthy of celebration in American history," Bridges said.
During this centennial celebration, the College of Veterinary Medicine will recognize Dr. Patterson with its highest alumni honor, the Stange Award. Other activities will be scheduled throughout the year as the College celebrates the legacy and enormous impact that Patterson had on our world.
 
During the Patterson Centennial celebration, the College of Veterinary Medicine has set a goal to raise $1 million to endow the Dr. Frederick Douglass Patterson Opportunity Fund. This fund within the College of Veterinary Medicine will be used to support the innovation, leadership, equity and humanity embodied in Dr. Patterson and the enterprises he launched and inspired over his lifetime.
Leadership gifts will be commemorated on a special donor wall in the College of Veterinary Medicine Commons.
For questions or more information please contact vetmeddev@iastate.edu.