Tyler Dohlman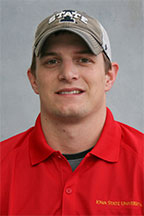 Education & Certifications
DACT - Diplomate College of Theriogenologists (2015)
MS – Iowa State University: Reproductive Physiology (2015)
AETA – American Embryo Transfer Association (2015)
DVM – Iowa State University (2010)
Teaching
Instructor-in-Charge
VDPAM 451 - Clinical Embryo Transfer
VDPAM 351 - Bovine Embryo Transfer & Related Technologies
Co-Instructor
BMS 334  -Biomedical Sciences II
VDPAM 416 - Bovine Reproduction Evaluation Lab
VDPAM 450 - Disturbances of Reproduction
VDPAM 471 - Theriogenology: Food Animal
VCS 471E - Equine Reproduction
VCS 471C - Comparative Reproduction
VCS 471S - Small Animal Reproduction
VDPAM 476 - Food Animal Field Service
VDPAM 477 - Food Animal Medicine and Surgery
VDPAM 495 -Advanced Small Ruminant Prod Med
Research Focus & Interests
Embryo Transfer, Bovine Reproduction, Assisted Reproductive Technologies
Leadership/Committees/Council
ISU Theriogenology Co-Service Leader
ISU Embryo Transfer Service Leader
ISU VDPAM Curriculum Committee Member
IVMA Emerging Leader
Memberships
AETA – American Embryo Transfer Association
IETS – International Embryo Transfer Society
ACT – American College of Theriogenologists
SFT – Society for Theriogenology
AABP – American Association of Bovine Practitioners
IVMA – Iowa Veterinary Medical Association
AVMA – American Veterinary Medical Association
Selected Publications
Engelken TJ, Dohlman TM. 2015. Beef Herd Health for Optimum Reproduction. In (RM Hopper, Ed) Bovine Reproduction, Wiley & Sons, Hoboken NJ (347-352).
Dohlman TM*, Jahnke MM, West JK, Phillips PE, Gunn PJ. Effects of label-dose permethrin administration in yearling beef cattle: II. Reproductive function and embryo quality of superovulated heifers. Accepted in Journal of Theriogenology (August 2015)
Magstadt D, Arruda B, Arruda P, Schwartz K, Dohlman T, Schleining J, Patterson A, Visek C, and Victoria J. Porcine Congenital Tremors: Identification of a Novel Swine Virus and Successful Reproduction of Clinical Disease. 2015. Proceedings of the ISU James D. McKean Swine Disease Conference, p73-74.