Beatrice Sponseller
Dr.med.vet, Diplomate ABVP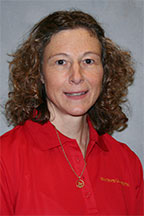 Education & Certifications
2001: Diplomate, American Board of Veterinary Practitioners (Equine Specialty)
1998-2000: Residency (Equine Specialty), Iowa State University
1996-1998: Residency (Equine Specialty), University of California, Davis
1996. Dr. med. vet. (PhD/DVM), Freie Universität Berlin, Germany 
Teaching
VCS 445 Equine Medicine
VCS 440 Introduction to Clinics
VCS 457/474 Equine Medicine Clinical Course
VCS 464 Equine Ambulatory
BMS 443 Pharmacology and Therapeutics
Research Focus & Interests
Area of Expertise: Equine Internal Medicine
Special Interests: Equine myopathies, neonatology, infectious diseases, nutrition
Research Interests: Streptococcus equi, equine myopathies
Memberships
American Board of Veterinary Practitioners (ABVP)
American Association of Equine Practitioners (AAEP)
Iowa Veterinary Medical Association (IVMA)
Selected Publications
Valberg SJ, Sponseller BT, Hegeman AD, Earing J, Bender JB, Martinson KL, Patterson SE, Sweetman L. Seasona pasture myopathy/atypical myopathy in North America associated with ingestion of Hypoglycin A within seeds of the box elder tree. Equine Vet J 2012, DOI: 10.1111/j.2042-3306.2012.00684.x.
Sponseller BT, Valberg SJ, Schultz NE, Bedford H, Wong DM, Kersh K, Shelton GD. Equine multiple acyl-CoA dehydrogenase deficiency (MADD) associated with seasonal pasture myopathy in Midwestern United States. J Vet Intern Med 2012; 26:1012-1018.
Sponseller BT, Plattner BL, Hostetter JM. Granulomatous interstitial nephritis caused by Halicephalobus gingivalis. J Am Vet Med Assoc 2011; 238:1271-1273.
Sponseller BA, Sponseller BT, Alcott CJ, Kline K, Hostetter J, Reinertson EL, Fales-Williams A. Syringohydromyelia in horses: 3 cases. Can Vet J 2011; 52:147-152.
Fales-Williams A, Sponseller B, Flaherty H. Idiopathic arterial medial calcification of the thoracic arteries in an adult horse. J Vet Diagn Invest; 2008; 20:692-697.
Wong DM, Sponseller BT, Brockus C. Neurologic deficits associated with severe hyponatremia in 2 foals. J Vet Emerg Crit Care 2007; 17:275-285.
Sponseller BT, Valberg SJ, Tennent-Brown B, Timoney JF. Severe acute rhabdomyolysis in 4 horses associated with Streptococcus equi subspecies equi infection. J Am Vet Med Assoc 2005; 227:1800-1807.
Wong D, Sponseller BT, Miles K, Butt T, Kersh K, Myers R. Failure of Technetium Tc 99m sestamibi scanning to detect abnormal parathyroid tissue in a horse and a mule with primary hyperparathyroidism. J Vet Intern Med 2004; 18: 589-593.
Sponseller BT, Valberg SJ, Ward TL, Fales-Williams AJ, Mickelson JR. Muscular weakness and recumbency in a Quarter Horse colt due to glycogen branching enzyme deficiency. Equine Vet Educ 2003; 15:182-188.
Sponseller BT, Ware WA. ECG of the Month: Ventricular tachycardia in a horse following trauma. J Am Vet Med Assoc 2001; 221:196-197.
Sponseller BT, Ware WA. Successful treatment of staphylococcal endocarditis in a horse. Equine Ved Educ 2001; 13:298-302.
Abhineet SS, Sponseller BT, Holmes MA, Timoney JF. Serum and mucosal antibody isotype responses to M-like protein (SeM) of Streptococcus equi in convalescent and vaccinated horses. Vet Immunol Immunopathol 1997; 59:239-251.