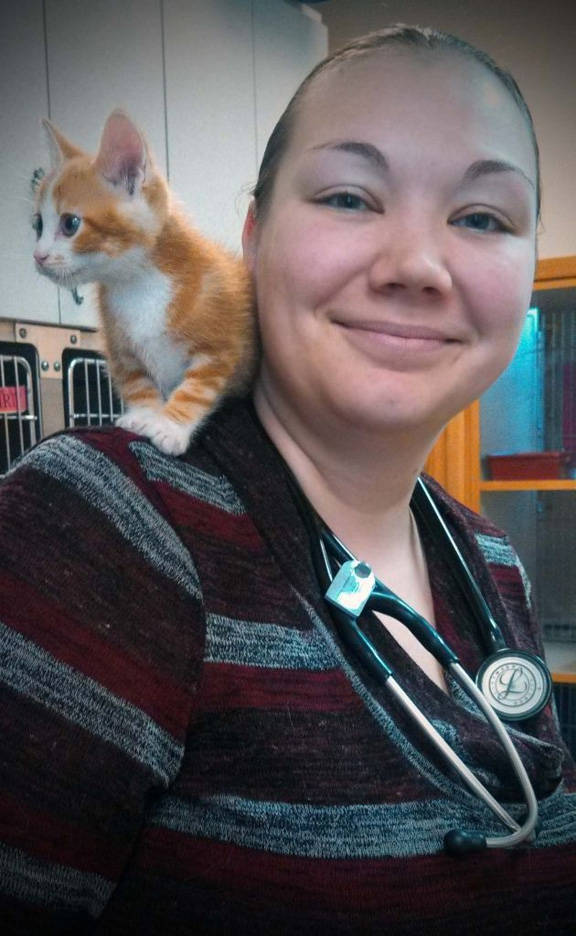 Home Sweet Home
Walk into most veterinary clinics and you'll see one, maybe two clinic pets who roam the building 24/7.
Walk into Tomorrow's Veterinary Care in Waverly, Nebraska, you will see not one, not two, but five "clinic critters" who call the clinic home.
Some came with the job. Cats Elizabeth and Mary were removed from the dashboard of a rental car by Dr. Raven Klone, the owner and sole practitioner at Tomorrow's Veterinary Care. Pig Pig was relinquished due to behavior issues and is feeling much better and seeking a new home.

Another pair of cats, Bond and Beef, were adopted from the ARL as kittens and have changed homes with Dr. Klone over the years. Beef passed away a couple years ago, but Bond still calls the clinic home. Edison, a Maltipoo, lives with Dr. Klone's family but comes to work with the 2010 Iowa State graduate. Most of her other dogs make occasional appearances, as well.
"I don't believe in euthanasia for treatable problems," Klone said. "That said, I won't decline one if I'm not able to offer a solution.

"We end up with occasional foster cats and dogs because of this. It keeps some of the compassion fatigue at bay but we never actively seek more animals to care for."
Klone is passionate about caring for animals. She also supports a rescue for tiny kittens who are frequently abandoned or injured in the Waverly area. 
"Any of those kittens are welcomed back to our clinic if they are unable to stay in their homes," Dr. Klone said. "Rescue organizations are important to support, and it is absolutely essential that any one bringing lives into this world be responsible for them."
From the very first appointment a client makes, Dr. Klone is educating them about the care their animals should receive. The basics of preventative care are discussed in every puppy or kitten visit. 
"A person must be invested and understanding in order to make the best decisions for their pets," Dr. Klone said. "I try very hard not to lecture, but rather to converse with my clients.
"Asking questions and sorting out why and how allows us to provide better recommendations and better care. If we assume reasons without asking, we lose an opportunity to help make compliance easier for the client and patient."
Owning a veterinary practice was always in the plans. Still it was quite the journey for Dr. Klone. After graduation, she took a few temporary and part-time positions in Nebraska. Relief work in the Lincoln and Omaha areas followed.
The unpredictable work schedule was difficult, especially with a young family to support. She even opened a clinic in Hickman, Nebraska, before purchasing Tomorrow's Veterinary Care, working towards some predictability.
"Owning a clinic is the best way to control your own destiny," Dr. Klone said, "The main challenge is finding enough time and support to get everything done as it should be. The management tasks are endless."