Finding Relief in Hawaii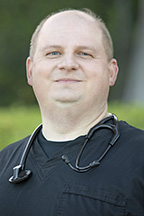 A Nebraska native who attended veterinary school at Iowa State. Started his career at a mixed animal practice in Texas and then moved to Canada to be with his girlfriend, now wife.
Dr. Jordan Bader has worked in a variety of locations but these days, you can find him on the island of Oahu in Hawaii.
"Hawaii is unique in that there is only a finite number of veterinarians who are practicing in the state," Bader said. "The pandemic halted travel and families moving to and from the state considerably which has taken a toll on clinics being able to fill open job opportunities."
That's why Bader's wife, Dr. Tammy Heerkens, who completed a rotating internship at Iowa State in 2009-10, started Heerkens Veterinary Relief Services in the midst of the pandemic. Bader joined the practice a few months later.
"Tammy started HVRS as a means to allow local clinics and practitioners a break in the hectic pace and demand the pandemic forced on veterinary medicine," Bader said. "We soon found out there was a significant need in the community for what we provide."
Relief services is a new gig for Bader. After graduation he worked in a large, multi-doctor mixed animal practice in Texas for two years. When he and Tammy moved to Victoria, British Columbia, he transitioned to a solo doctor practice before working at a corporate clinic in Hawaii for six years.
It was during this time when he discovered his passion for veterinary relief services.
"Being able to give back to the veterinary community here in Hawaii is a strong passion for Tammy and I," he said. "We have always maintained good relationships with referring DVMs during our time as general practitioners and those relationships were a strong factor in starting this business.
"There are many small single doctor practices that if we were not available, they would work six to seven days a week, all year round. We hope we can help area DVMs to rest and recharge and not to worry about the clinic for at least a few days a week."
The job of a relief veterinary varies from day to day. Currently Heerkens Veterinary Relief Services provide services throughout the island of Oahu and is looking to expand to the other Hawaiian Islands in the near future.
Some clinics use Bader consistently one or two days a week. Others want longer time periods to cover vacations, continuing education and maternity leaves. Despite being a relief veterinarian, Bader has developed lasting relationships with clients at the clinics where he has a consistent presence.
But every clinic is different.
"The 'honeymoon' period can be a little taxing at first but the support staff at the clinics have been amazing at smoothing transitions, and filling in gaps with specific protocols or operating procedures," Bader said. "The medicine and care practice will always be the same for us no matter the location.
"Honestly, what the client sees from me is the same regardless of the type of practice or location – an honest and caring attitude at all times and listening to all of the clients' concerns no matter how small."