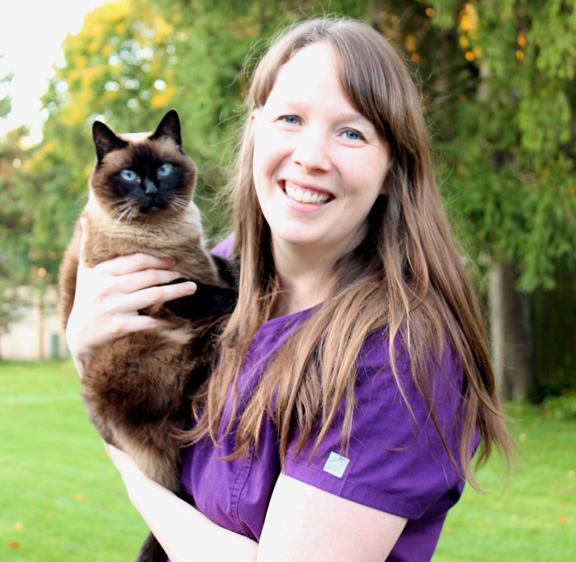 Vet School Buddy
Two weeks before Dr. Brenda Arens entered veterinary school at Iowa State, she got a cat.
Basil spent the next four years with Arens, sitting on her lap while she was studying in her apartment. Basil was such a fixture that Arens says many of her classmates would remember her.
"I wasn't going to put myself through vet school without a daily reminder of why I was doing this in the first place," she said. "Basil was always there for me."

Today Basil is still with Arens, who married after graduating from Iowa State. Now Dr. Brenda Arens Reed is a small animal veterinarian at Animal Doctor of Muskego in Wisconsin and has a son Clay and a daughter Nellie.
Basil has followed Reed from Iowa State to a mixed animal practice in Dyersville, Iowa, and then onto a clinic in Janesville, Wisconsin, before moving to her current position.
"I decided early on that mixed animal practice wasn't for me," Reed said, "and I had grown up on a farm and understood farming.
"I thought the more specialized I could be and put my focus on just small animals, the better," she said. "I love veterinary medicine and the science that goes along with it, seeing how the body works."
Reed has become specialized, focusing on cases that include surgery and dentistry, seeking out additional training in these areas.
Animal behavior is another area that interests Reed. She's a believer in Fear Free training. She speaks with clients about behavior issues in their pets on a weekly, if not daily basis.
"It's a rare week that I'm not sending clients to a trainer for assistance," she said.
But Basil. No way!
"My cat is perfect," Reed said before hesitating slightly. "She does get anxious when there's another dog or cat around her."
Which is surprising, considering the places Basil and Reed have been.
"We've been through a lot of change," Reed said.