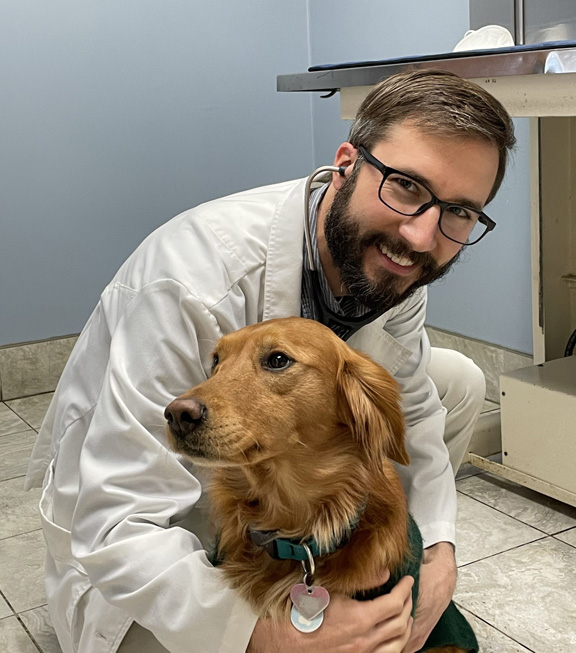 Time for a Change
After nearly a decade in the veterinary profession, Dr. Scott Beeman could sense he needed a change. Then the COVID-19 pandemic hit and he knew it was time to leave the veterinary practice he started at after graduating from Iowa State.
"Although I was struggling with burnout, diminishing growth and practice culture issues for a few years, the pandemic brought them into sharp focus," he said. "It was time for a change."
Earlier this year, Beeman left the small animal practice he had been at in Adel, Iowa, and moved north – way north to Duluth, Minnesota, and the Duluth Veterinary Hospital.
A new location wasn't the only change Beeman has recently made. He became a certified veterinary medical acupuncturist through CuraCore. He also has training in medical message and is considering pursuing certification in this area in the future.
"I have always felt alleviating and preventing pain is one of the most important parts of veterinary medicine," Beeman said. "Certification in veterinary medical acupuncture was an initial step toward becoming a certified veterinary pain practitioner.
"I hope to continue adding new pain management tools to my belt throughout my career."
At Duluth Veterinary Hospital, Beeman daily sees dogs and cats with acute and chronic conditions that cause pain or loss of function. He has treated osteoarthritis, IVDD, soft tissue injuries, atopy, anxiety of various causes, idiopathic epilepsy and hyperesthesia syndrome.
These are just a few of the conditions Beeman says responds to acupuncture, medical massage and laser therapy.
"As I continue to gain experience in this area, I'm positive my case diversity will continue to expand," he said.
Another area Beeman has expanded his case diversity is in the care and treatment of exotic animals. He speaks from experience. In addition to a dog and two cats, his family has a rabbit and a ball python. 
"Owning a rabbit and a ball python help me learn about their care on a routine basis," Beeman said. "I believe all pets deserve veterinary care, so I hope to continue growing my skills in exotic companion animal medicine.
"It is definitely one of the more challenging facets of animal general practice."