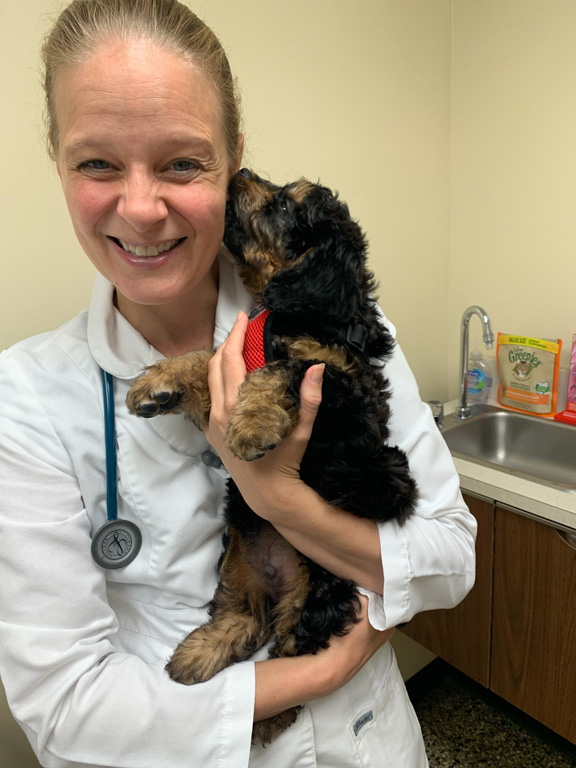 Searching for Clues
First, she took the dermatology rotation twice her fourth year at Iowa State. 
Then Dr. Sarah Benson completed an internship at VCA West Los Angeles with the intent of specializing in dermatology.
"I loved derm so much that I did the rotation with Dr. (Jim) Noxon twice during my fourth year," Benson said. "I chose to do an internship because I was, at the time, interested in specializing in dermatology."
Instead of looking at a residency, Benson instead choose a different route, coming back home to Minnesota where she accepted a job at Lyndale Animal Hospital, a small animal practice in the Twin Cities.
"One of the things that drew me to general small animal practice is the wide variety of cases I see," Benson said. "I love surgery, dentistry, complex medical cases, behavior issues and of course, dermatology."
It's in this role that Benson has found her true calling as a veterinarian detective. 
"One of my favorite things about working with small animals is the feeling of being a detective," she said. "I am always thrilled when I can discover the cause of medical issues. Using small clues to discover how to help sick animals is incredibly rewarding, and is what keeps me coming back to the office every day."
That office is still the Lyndale Animal Hospital, the same practice Benson came back to Minnesota a decade ago after completing her internship.  She thrills at the prospect of seeing patients with non-specific symptoms and ferreting out the cause based on following the trail of evidence.  Her favorite example was discovering that an anxious dog with lethargy and anorexia had been scratching at the apartment door, ingesting small paint chips and ultimately developing lead toxicosis.
Benson is also attracted to this type of practice because she has been able to follow a patient through its entire life, caring for it as a puppy or kitten and then later in its senior years.
"Being at Lyndale Animal Hospital for ten years now, I have been able to do exactly that," she says. "While it can be devastating to lose a patient I have been seeing for ten years, it is very rewarding to be there for those patients and clients at the end.
"It is my clients and patients that have kept me at Lyndale for so long. I can't imagine leaving them."
As a fourth-year student, Benson says she walked the halls of the hospital every day with a huge smile on her face. That smile has remained in private practice, but it's a little more grueling than she had anticipated.
She now works part-time in an effort to maintain a good work-life balance.
"I don't think I fully realized how stressful and emotionally draining being a veterinarian can be," Benson said. "As a young child dreaming of being a veterinarian, I certainly didn't envision lying in bed late at night worried about a surgical patient or mulling over blood work results.
"Fresh out of my internship I happily worked 40 hour weeks, but as a mother of two young girls, I love to split my time between work and home."