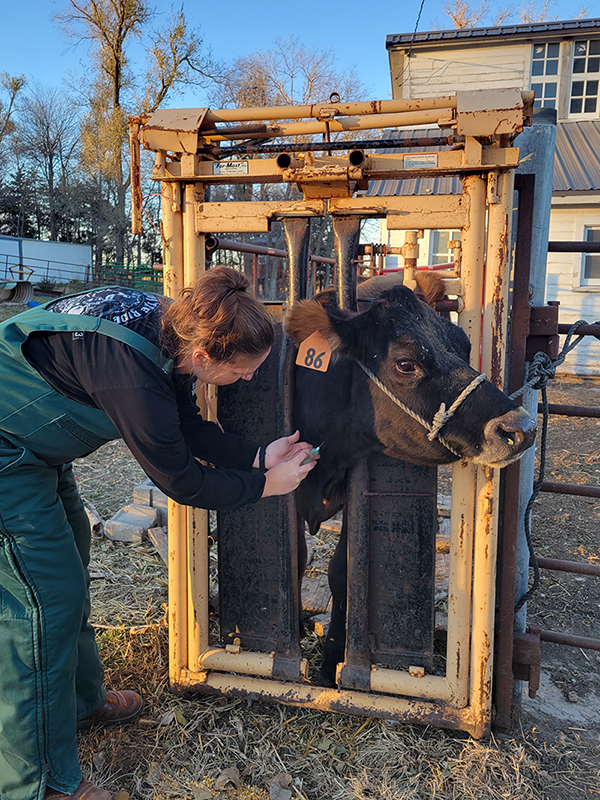 Out in the Field
One moment Dr. Pam Dinslage is indicating her job as a veterinary field officer for the State of Nebraska operates at a much slower pace than she experienced while in private practice.
Then she begins to go into a little more detail about her vast job responsibilities.
"I have responsibility for 18 counties in northeast Nebraska," Dinslage said. "That includes everything from monitoring cattle imports from Mexico, Canada and the states, to the feedlots, swine, poultry, gamebird, cervid operations, sale barns, and rendering plants in these counties."
Eighteen counties is a fair amount of responsibility. While she works from her West Point home, Dinslage says she is consistently on the road, traveling as far away as 2 ½ hours to visit feedlots, swine and poultry facilities. Nebraska trails only Texas in the number of cattle on feed and Dinslage's home county of Cuming has the largest number of beef cattle on feed in the state.
"One of the best parts of this job is being able to talk to the producers and getting to know them and their operation before a problem shows up where they need guidance," she said.
The feeling isn't always mutual. Dinslage is the person contacted when there is a problem at an operation. One of her primary responsibilities is determining if a foreign animal disease has shown up in a herd. When Pathogenic Avian Influenza hit the industry hard a few years back, Dinslage was on the front lines taking samples and testing for the disease.
"It seems like I only get calls when something is going wrong," she said, "but it is humbling to be the voice of reason and to be the mediator between the Nebraska Department of Agriculture and the producer during stressful animal disease situations."
After graduating, Dinslage worked part-time at mixed animal clinics in Schuyler and Laurel, Nebraska, before working full-time at another mixed animal practice in Oakland, Nebraska.
Her husband Tyson ('09) practices at Nebraska Vet Services in West Point and it seemed like every night and weekend one or both were on call. Looking for a different lifestyle, Dinslage joined the Nebraska Department of Agriculture seven years ago and hasn't looked back.
"I do miss surgery," Dinslage said, "but Tyson will let me help out with his spay/neuter clinics his practice offers for veterinary students.  We also have our own cattle herd, so it seems we end up having to do a C-section on one every now and then, so I still get to cut stuff sometimes.  Turns out it really is just like riding a bike. "