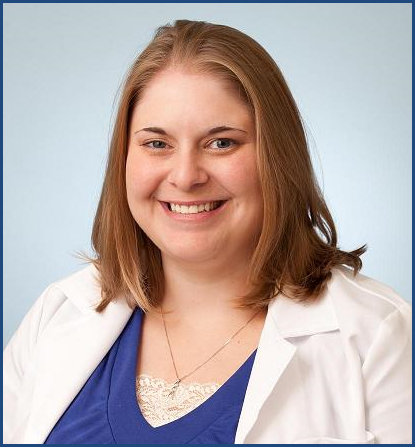 In Memoriam
Kimberly Bebar (1983-2014)
Dr. Kimberly Bebar loved being a veterinarian. Family and friends remember Kim being driven in her desire to joining the profession.
"Thinking back, we believe Kim wanted to be a vet since she was in the second grade," her parents, Rick and Rita Bebar said. "She knew what she wanted to be and stuck with it."
Classmate Dr. Claire Dorniden Hotvet also remembers that drive.
"Kim was such a passionate individual both in becoming a veterinarian and in friendship," Hotvet said. "As a student, we would have endless study sessions in her trailer. As a friend, she always let me borrow her puppy, Razi, to protect me on my night time runs."
As an undergraduate student at Iowa State, Kim began working as a vet tech at an emergency clinic in Des Moines. Hotvet recalls she continued her association with the clinic, traveling to Des Moines as often as she could.
"I remember going with her to work at the emergency clinic in Des Moines and she was so excited to show me as much as she could about emergency medicine," said Dr. Caitlyn Glick, another classmate. "She wanted everyone to love ECC as much as she did."
During her vet studies, she was the founder and president of the Emergency Club where she coordinated wet labs and brought in guest speakers.
After graduating from Iowa State with her DVM, Kim was an intern at Angell Animal Medical Center in Boston in the emergency department. She was completing a residency in critical care at Cape Cod Veterinary Specialists in Massachusetts when she passed away on March 11, 2014, as a result of an automobile accident.
Massachusetts colleagues describe Kim as "an incredible teacher who left everyone with more knowledge and confidence in their abilities to help out in a crisis."
In a memoriam written after her passing, the doctors at Cape Cod Veterinary Specialists wrote this… "Though the time she was able to dedicate to this specialty was senselessly fleeting, the impact she made at our facility and in our referring community will be long remembered."
In particular Kim was interested in CPR and the RECOVER initiative. She was instrumental in leading a CPR teaching course for not only her co-workers at Cape Cod Veterinary Specialists but for countless veterinarians and technicians from nearby hospitals.
"Kim like to be challenged and never backed down from any challenge," her parents said. "She had a great gut instinct and was quick thinking on her feet."
The Bebars cherish the many testimonials they received after Kim's passing from clients.
"They talked about how good and caring Kim was treating their pet but also how good she was at explaining things to them," the Bebars said. "Kim never took no for an answer, she pushed ahead when others paused. She kept driving for her goal."

"Kim had so much more to offer this world," Glick said. "But those who knew her, know how big of an impact she had on everyone around her."