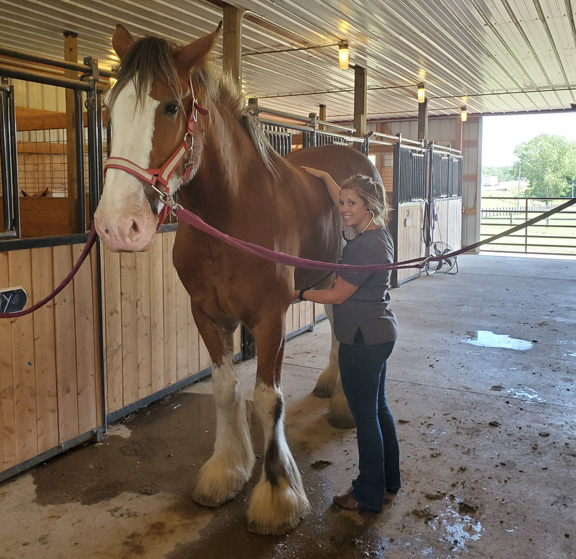 A Good Story to Tell
Most of the clients walking through the doors at the Midland Prairie Veterinary Services are bringing their dog or cat to be seen.
It's a familiar tale for Dr. Meredith Johns, one of the three owners of the veterinary clinic which has offices in Colfax and Maxwell, Iowa. It was the same story at the mixed animal practices she worked at in Moberly, Missouri, and in her hometown of Ottumwa, Iowa.
While she enjoys working with companion animals, Johns has a special interest in large animals.
"One of the reasons why I came to Midland Prairie was because I wanted to get back in a mixed animal practice," Johns said. "I've always like working with people in the agriculture industry."
And although 80 percent of the clients at Midland Prairie are dogs and cats, these days Johns gets to see her fair share of horses, cows, pigs, goats, sheep and even some pot-bellied pigs. She had such a strong desire to get back into a mixed animal practice, that while she was in Ottumwa, she did a little bit of veterinary work on cows and horses on the side.
It's the variety of a mixed animal practice that excites Johns professionally. 
"It's like it's an adventure every day, it's always something different," she said. "Eleven years later I am still learning and something almost always surprises me every day.
"I just like to have a good story to tell at the end of the day."
One day, the story could be about doing preg checks on a herd of 4-H cows with a group of high school students watching nearby. 
"It's always interesting when I can show something to someone they have never seen before," Johns said. "One day it will be the babies on the ultrasound that intrigues them."
In recent years, Johns has become a co-owner of Midland Prairie Veterinary Services, reaching another one of her professional goals. She prepared for just such an opportunity by taking business classes in school and observing her parents as small business owners.
"It was a steep learning curve," Johns said. "I like being a decision maker and it has worked out great that I have two other co-owners in this partnership – that way I don't have to make all the tough decisions by myself."