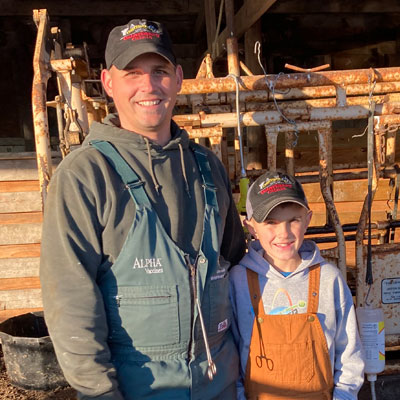 Farming has always been a passion of Dr. Rich Caves. Growing up in Oskaloosa, Iowa, he assumed he would make a living on the farm.
Things change though.
"In high school I realized that full time farming wasn't in my deck of cards, so I became interested in veterinary medicine," said Caves. "I've always enjoyed livestock and working with farmers."
Even though a little less than half of the Osceola Veterinary Clinic's patients are large animals, Caves says he has long had an emphasis as a large animal vet at the clinic where he is a partner. Even his photo on the clinic's website emphasizes his large animal focus.
Today Caves and the clinic's other three veterinarians split the patients evenly. But there was a time Caves and his business partner, Dr. Judy Little ('97) were the only doctors. Little handled all the small animal patients, while Caves took care of the large animal appointments.
Caves hasn't given up farming all together. He is a partner with his father's farming operation near Oskaloosa. They currently have 80 beef cows and farm approximately 500 acres of row crops.
"Raising cows and farming ground is in my blood," Caves said, "it has been since I grew up on the farm. It is what comes natural to me and gives me fulfillment outside of veterinary medicine."
While his dad takes care of the day-to-day responsibilities, Caves heads to the operation on his days off from the clinic. And you'll find him back on the farm come planting and harvest seasons.
"Farming is definitely a way that I unwind outside of veterinary medicine," Caves said. "Now that we have more help at the clinic, I definitely try to make work-life balance more of a priority."
He also credits his family for keeping him grounded.
"My wife, Tiffany, is the main way I stay pointed in the right direction," he said. "She knows that I am a hard worker but always makes sure that I have fun."
"I have two boys, Kipton and Grayson, that love to be with me wherever I am. They make things better no matter what I am doing, whether it's working cattle, farming, hunting, or just being together as a family."