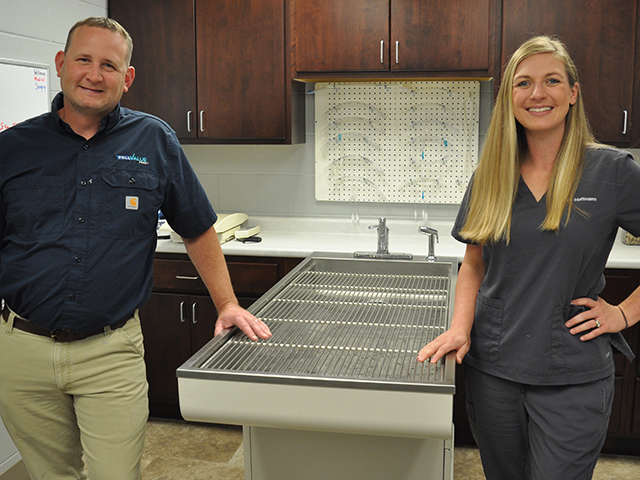 Pat and Kate (Baker) Hoffmann
A Family of Veterinarians
Several members of the Class of 2010 grew up with a parent who was a veterinarian, paving the way for their own chosen career path.
And there are multiple veterinarian couples in the class, who not only graduated in 2010, but who were soon married.
But there are few families like the Hoffmanns, who not only have dual veterinary degrees, but whose fathers were also veterinarians.
"Annette (the couple's daughter) probably isn't going to have much of a choice on her career since both of us and both her grandfathers are vets," said Dr. Pat Hoffmann.
Pat, along with his wife, Dr. Kate (Baker) Hoffmann own and operate the Atlantic (Iowa) Animal Health Center. In reality, Kate is the sole proprietor of the clinic since Pat is a veterinarian and swine technical consultant at Elanco.
"I mow the yard and change the light bulbs, but I don't see any patients here," Pat said. "If Kate has a difficult surgery, I will sometimes assist her."
Kate just shakes her head, asking her husband, "when was the last time you assisted me in surgery?"
Even though they are in the same profession, the couple has pretty much gone their separate way after graduation. Pat is a swine veterinarian. Kate started out as a mixed animal practitioner, focusing on cows, but now just sees small animals at her clinic.
That was the case right after graduation when both were employed at Southern Hills Veterinary Services, a multi-office clinic in several southwest Iowa communities.
"We both practiced there for two years," Kate said, "but they didn't have us in the same office on the same day. I think that was even more challenging than if we would have been able to work together.
"We always seemed to be going in different directions all the time. One week I would be on call, then the next Pat would be. It's nicer now that we're in different areas."
When the opportunity came in 2014 to purchase the Atlantic Animal Health Center, the couple jumped at it.
Then another challenge.
"We learned I was pregnant right before we bought the clinic," Kate said, "and Pat had to work all that time I was on maternity leave."
Kate says the timing of her pregnancy was great. Her new clients saw her not only as a veterinarian but a soon-to-be mother.
"It was a blessing to start the practice where people could see I was going to be a mother," she said. "I think my clients have really appreciated the fact I not only care for their pets but I also care for our daughter as well."

As essentially a sole practitioner, Kate finds the wide array of medical procedures she performs on a weekly basis challenging. She says she has particularly begun to appreciate surgery, and internal medicine is a favorite specialty to practice.
Since leaving his first practice, Pat has focused his career path on swine medicine, working first for Genesus, Inc., then as director of health assurance for DNA Swine Genetics, and now with Elanco. His territory covers what he calls the "Western Corn Belt" of the Dakotas, Nebraska, Minnesota and Iowa.
Swine medicine was probably always in Pat's future. His father, Dr. James Hoffmann ('82), partnered with legendary swine veterinarian Dr. Roy Schultz ('60) and growing up Pat would tag along.
"I had a great backseat view of a lot of cool things that were happening in the '90s in swine medicine," Pat said. "What I learned from Dad and Roy helped develop my passion to help feed the growing global population without destroying the planet.
"When the opportunity to work exclusively in swine medicine came about, I couldn't pass it up. You just never know what path your career will take."