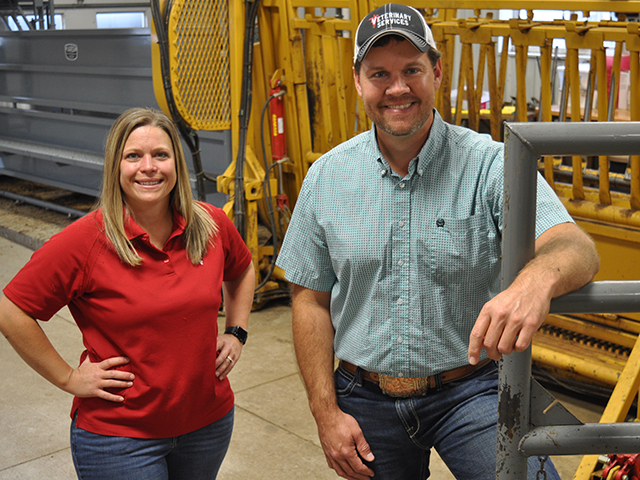 Troy Worth & Nicole Hanson Hendricks
From Classmates to Business Partners
As fellow students in the Class of 2010, Drs. Troy Worth and Nicole Hanson Hendricks were acquaintances but no one would call them close friends.
Certainly not Worth or Hendricks.
"We didn't spend a lot of time together in vet school," Worth recalled.
They can't say that now.
Worth and Hendricks are co-owners of Veterinary Services in Imperial, Nebraska, located in the southwest portion of the state. The clinic offers both large animal and small animal services.
Worth joined Veterinary Services right after graduating in 2010 and became a co-owner in 2014.
"This has been my first and only job," he said. "I always wanted to own a clinic not only for the opportunities that arise from ownership but the many challenges as well."
Hendricks path to Imperial and Veterinary Services wasn't quite as straight and narrow. After graduating from Iowa State, she got married and spent three years at a small animal clinic in Kearney, Nebraska.
When a business opportunity came open for her husband, she moved to back to her native southwest Nebraska where she had a "tough time" for a year or so doing relief and part-time veterinary work. Then she learned about an open position at Veterinary Services.
After Worth learned Hendricks had applied for the job, he did a double take.
"When she contacted us about the job, I went right to my class composite to confirm that it was the same Nicole," Worth said. "It was strange because we hadn't had any contact since we graduated.
"I never thought in my wildest dreams I would be interviewing a classmate for a job."
Hendricks' move to Veterinary Services wasn't without its challenges. Her new job initially required she practice both small and large animal medicine. It was a steep relearning curve for her since she "hadn't touched a cow since vet school."
"Small animals, I knew what I was doing," she said. "With large animals, I had to look up the dosages off to the side so the client wouldn't see what I was doing."
"We hired Nicole for the small animal side of the business and it's really taken off." Worth said.

"From the very first day, she has been busy all the time."
When one of the original practice owners retired in 2019, Hendricks leaped at the chance to purchase the other half of the business.
"Working for someone else, you are always wanting to do things differently," she said. "You have to be an owner to be able to do that.
"There's good and bad things about being an owner but in the end, you get to decide."
With a population of just 2,000, Veterinary Services has to draw clients and patients from a 60-mile radius from Imperial. The practice has grown significantly over the years, adding not only new equipment but buildings as well.
Every month, Worth and Hendricks estimate another 15-20 new clients seek veterinary care at Veterinary Services. In addition to the co-owners, the practice has two other veterinarians – Iowa State graduates Dr. Jake Johnson ('16) and Dr. Meghan O'Callaghan ('20).
The two say the opportunity to work together before becoming co-owners was a great trial run to see if they could be compatible as owners. 
"I never thought we would be owning a practice together," Worth said. "It's been great – Nicole and I have many of the same ambitions and it just kind of fell into place."