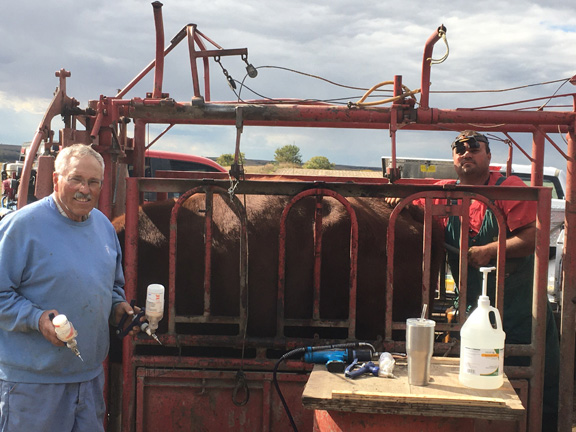 All in the Family
The Tri-Valley Veterinary Clinic in Miller, Nebraska, is strictly a family affair.
The mixed animal practice was started in 1975 by Dr. Michael Saathoff after he graduated from Iowa State's College of Veterinary Medicine. It remained a one-person practice until Saathoff's son Andrew also graduated from Iowa State in 2010.
"He needed another veterinarian in the practice with him earlier, but waited until I was done with school so I could join and practice with him," Andrew said. "We work side by side many days in addition to farming and owning cattle together.
"There isn't a day I don't talk to him or most likely see him and I wouldn't have it any other way."
Both Drs. Saathoff aren't the only family members involved with the Tri-Valley Veterinary Clinic. Andrew's mother keeps the clinic's books and his brother is the practice's vet tech. Tri-Valley is a mixed animal practice but Andrew estimates about 80 percent of the practice is large animals, primarily cow-calf and feedlots.
"This is very much a family business," Andrew said.
Long before he became a veterinary student at Iowa State, Andrew knew where his career path would take him. The elder Saathoff started the practice as a mobile business before building a small animal clinic in 1985 followed by a large animal clinic a decade later.
Andrew fondly remembers the two-way radio that was in the family kitchen his father would use to call home to see if there were any other vet calls to go on. On many of those calls, Andrew would tag along with his father.
"I traveled with him as often as I could as a child and then worked for him as I got older," Andrew said. "I remember many times going out in the middle of the night to pull a calf or do a C-section on a cow.
"I helped with every surgery I could and can remember holding the forceps or dabbing the incision site to wipe away the blood. I always loved helping the animals but also helping the people."
Andrew's early and vast experiences out in the field came in handy when he first joined his father's practice right after graduation. One of his first C-sections on a cow was a schistosomes reflexes calf (he calls it an inside outside calf).
The uterus wouldn't come out. It was hot and Andrew spent 2 ½ hours sewing up the uterus.
"It was a terrible surgery," he said. "I told the clients when I was done that I did my best but most likely the cow would die.
"The next fall when I pregnancy checked the cows in that herd, that cow was pregnant and doing just fine. I felt like I had failed but, in the end, it was a success."