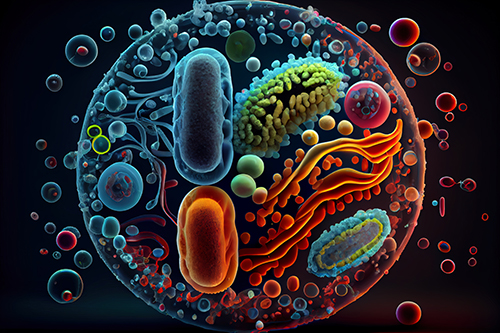 Making Every Moment Count
Antimicrobial Resistance (AMR) is one of the greatest threats to society, human and animal health, and economic prosperity.
According to the Centers for Disease Control and Prevention, antibiotic-resistant bacteria causes at least 2.8 million infections and 35,000 deaths in the United States every year. Many more die from complications of an antibiotic-resistant infection. These drug-resistant "superbugs" can also harm the ecosystem and cost multibillions annually in medical costs and economic losses.
A new national institute in the College of Veterinary Medicine is working to combat this growing public health threat.
The National Institute for Antimicrobial Resistance Research and Education (NIAMRRE) has the single goal of addressing antimicrobial resistance.
"Antimicrobial resistance is a global priority of the CDC," said Dr. Paul Plummer, NIAMRRE executive director. "It touches each of us in our daily lives. This institute provides a great resource for the entire country as we work to build strong, collaborative research and educational programs to mitigate this risk."
Iowa State was selected as the home base of the national institute by the Association of Public and Land-grant Universities and the Association of American Veterinary Medical Colleges. While Iowa State is the lead institution, collaborators include the USDA Agricultural Research Service, the University of Nebraska-Lincoln, University of Nebraska Medical Center, the University of Iowa, Mayo Clinic, and a team of more than 100 researchers, educators, clinicians and extension personnel from higher education, industry and advocacy groups.
These researchers include basic, translational and applied scientists in veterinary medicine, agriculture, environmental health, public health, medicine, economics and social sciences.
"We need to identify gaps of knowledge we have to answer and build those together to answer the really big questions," Plummer said, and we must do that while bridging human, animal and environmental concerns."
NIAMRRE works with its various partners to map expertise and capacities in the AMR arena nationwide and identify research priorities and funding opportunities. The institute then facilities the creation of highly competitive research teams to build and execute successful projects to further the understanding of AMR and mitigate its effects.
Research isn't the only component NIAMRRE is using in this fight. The institute is working to identify best practices in the science communication of AMR to lay audiences.
"We then collaborate with experts to identify complex AMR topics for general consumption and provide resources to end users," Plummer said. "Cross-disciplinary participation helps to bridge resource and knowledge gaps and create sustainable progress."
Plummer knows this is a big task but feels NIAMRRE is up to the task.
"Our primary goal must be to improve and increase the interworking and collaboration on education efforts and research related to antimicrobial resistance," he said.
LVMC Client Newsletter Issue Date: