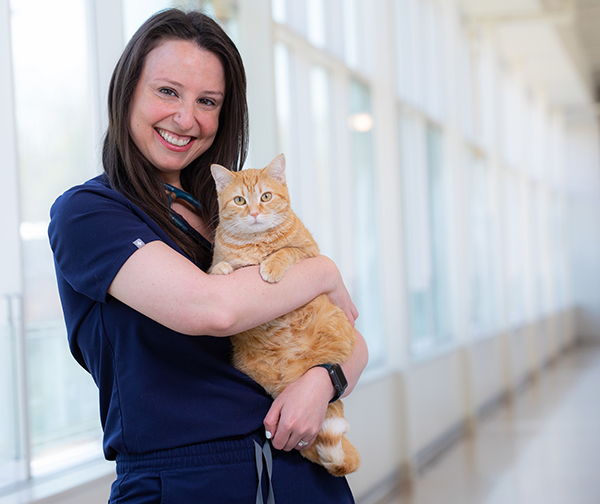 A Different Option
Maia Farber grew up in Los Angeles and discovered a love for animals at an early age.
After completing her undergraduate degree, Farber moved to Ames. But she didn't immediately enroll in the DVM program in the College of Veterinary Medicine.
Instead, Farber completed a one-year biomedical sciences master's program during which time she fell in love with Iowa State and Ames. That additional year gave Farber the confidence to continue her dream of becoming a veterinarian, which she did this past spring, graduating with her DVM.
Farber will remain in Ames for at least another year. She has begun a one-year rotating internship in the Hixson-Lied Small Animal Hospital.
The one-year biomedical sciences master's program is designed to meet the demands of a wide range of career pathways and make students like Farber more competitive in the admissions process. Since its inception several years ago, almost 90 percent of the program's graduates who apply to professional school are accepted.
That's medical, dental, pharmacy, and veterinary school. Other graduates have enrolled in PhD programs in the health sciences.
The core curriculum includes coursework focusing on the study of both human and animal sciences and can be completed in just nine months.
"Going through the biomedical sciences master's program has introduced me to amazing friends and gave me confidence to continue my education at a professional," said Tessa Kohl, a current third-year veterinary student and a 2021 master's graduate.
LVMC Client Newsletter Issue Date: