A Big Assist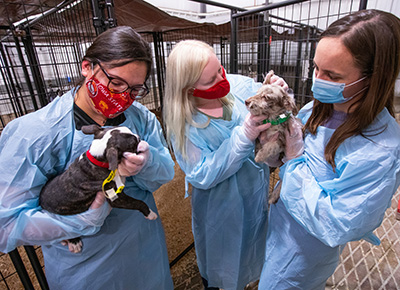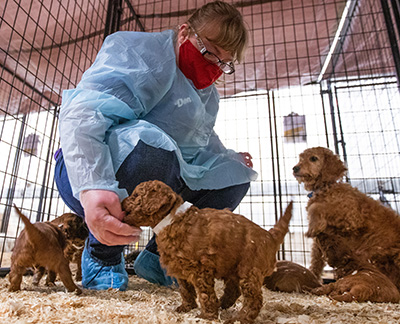 When a federal court judge ordered the surrender and removal of more than 500 dogs and puppies from a USDA licensed breeder in Iowa, one of the many organizations that stepped up was Iowa State University.
Also stepping up were volunteers from the College of Veterinary Medicine including students, staff and faculty members.
"I knew that this would be a big 'all hands on deck' situation and I wanted to help where I could," said Melissa Garcia Rodriguez, a third-year student. "The dogs had the potential to be in bad shape so I wanted to provide my skills as a veterinary student to help the veterinarians in their physical exams.
"I also knew the dogs would be scared and stressed from the situation and I wanted to be there for them."
In addition to veterinary student volunteers like Rodriguez, a large group of undergraduate students and members of the community, led by the Animal Rescue League of Iowa (ARL), are supporting the effort. Iowa State received 115 dogs that were brought to the Hansen Agriculture Student Learning Center and were housed in spacious kennels.
Veterinary students have been assisting with rabies vaccinations while also conducting low-stress handling and doing a few procedures. Katie Willoughby, a third-year student, said some of her duties included unloading kennels, safely removing the dogs, assisting with examinations, and drawing up vaccinations.
"I gained a lot of insight into just how much goes into operations like these," Willoughby said. "I have so much respect for the many people who come together to make it possible. Participating in this effort was incredibly rewarding and I plan to get involved in future operations."
Rodriguez said her time at Hansen allowed her to learn to work with animals that aren't household pets.
"They were scared, and I learned to recognize those signs and handle them appropriately," she said. "After this, I plan on being readily available as a licensed veterinarian to help in similar emergency responses."
For second-year student Alex Miller, the choice to volunteer was easy.
"It is so easy to get wrapped up in the books and grades," she said. "Events like this remind me of why I am here working as hard as I am and it's for the animals. This experience gave me a perspective that vet school is not my whole life.
"The entire reason I am working to become a veterinarian is so I can continue to aid in missions like these."
In addition to assisting with the dogs at the Hansen Center, some veterinary students also were part of the removal operation, where they worked with the ARL, U.S. Department of Agriculture inspectors and other volunteer groups.
"As dogs were coming out of facilities, there was a staging area where our students were assisting with handling and restraining the dogs, microchipping and doing an inventory of the dogs," said Dr. Suzanne Millman, professor of veterinary diagnostic and production animal medicine. "Our students were able to draw from the low stress handling techniques they learn in their first semester and which they build on throughout the curriculum.
"It was rewarding to see how the students recognize and respond effectively to these fearful dogs in this emergency response situation and later at the temporary shelter."
A frequent volunteer at the ARL, Megan Smith, a second-year student, volunteered at a satellite location where she performed intake exams on the dogs.
"My role was from a behavior standpoint," Smith said. "I have experience working with abused and neglected dogs at various shelters and veterinary clinics in a fear-free manner."
At the satellite location, Smith handled some of the more fearful dogs. Smith and other volunteers approached each dog as an individual, adapting their exams to make them the most comfortable.
"I gained an appreciation for our state's veterinarians," Smith said. "Many dropped everything at a moment's notice and took the time to help us with this important work. I hope to be as giving as they were when I am a licensed veterinarian."
Rodriguez said the experience has been valuable but troubling.
"It is difficult knowing the condition these dogs are in," Rodriguez said. "It took a lot of self-discipline to put these feelings of anger aside and be there for the dogs. That is the reason I volunteered. I couldn't do anything about their past, but if I could help be the reason some of those dogs learned to gain trust in people, then that is ultimately what matters."
Both Willoughby and Miller agree with their fellow student.
"All of these dogs under our care have been rescued and will get better," Miller said. "That's something to be happy and proud of."
"I saw scared animals for sure," Willoughby said. "But I also saw less than 24 hours later, these same scared dogs with full bellies, resting, exploring, and even playing. It feels so good to have been a part of that."
Help fund these valuable services by contributing to the Veterinary Medicine Impact Fund.
November 2021
LVMC Client Newsletter Issue Date: