Patient Boom a Growing Challenge at Small Animal Hospital
Story by Dave Roepke
Blood Donors Needed
With rising caseloads, the Lloyd Veterinary Medical Center blood bank has a shortage of canine and feline blood products for use in emergencies, surgeries and other treatments. The center is seeking additional dogs and cats to serve as donors. Benefits for animals selected as donors include vaccinations, heartworm testing, flea and tick prevention, routine health exams and food. For more information, contact blood bank coordinator Amy Hodnefield at achally@iastate.edu.
Small animal caseloads at the Lloyd Veterinary Medical Center surged as the COVID-19 pandemic struck. Then they surged even higher. The four busiest months on record for the hospital's 24-hour emergency service are July 2021 (711 cases), August 2021 (710), May 2021 (657) and June 2021 (655).
"There's no plateau yet," said Dr. Rebecca Walton, clinical assistant professor of veterinary clinical sciences and a critical care specialist at the small animal hospital.
The rising patient numbers, coming as the hospital's capacity has at times been reduced due to pandemic precautions and scheduling impacts, has been a challenge emotionally and mentally, Walton said.
"When you're pulled in 100 different directions, it's hard. You wonder, 'What did I forget to do?'" she said. "It's just never-ending. It's been a huge, huge struggle."
Emergency services -- available to any patient 24 hours a day without an appointment -- have shouldered much of the growing demand. To ensure the best care for animals who need it the most, the hospital is considering establishing a triaging system that could at times reduce emergency services access for less serious conditions, said Dr. Jessica Ward, associate professor of veterinary clinical sciences and the interim chief medical officer for the Lloyd Veterinary Medical Center's Hixson-Lied Small Animal Hospital.
"It's heartbreaking not being able to be everything to everyone," she said. "But we might not be able to be everything to everybody and do a good job."
Overflow Impact
The caseload boom at small animal hospitals isn't a local phenomenon. It has emerged as a nationwide trend during the pandemic, though the cause isn't clear, Ward said. A recent article by the American Veterinary Medical Association, citing shelter statistics, discounted the notion that COVID-19-driven isolation suddenly made adopting a puppy more popular. It could be the extended time at home with their pets or their lack of spending in other areas may have made owners more interested in seeking veterinary care, Ward said.
"The entire veterinary care industry is being stretched to its limits," said Dr. Dan Grooms, the Dr. Stephen G. Juelsgaard Dean of Veterinary Medicine. "What we are experiencing here at Iowa State is similar to private practices and other teaching hospitals across the country. There are many factors driving this, but the primary one is an increased demand for animal health care services."
Regardless of the reason patient volume has increased, it's clear it has had an outsized effect on emergency services. The hospital's overall small animal cases were up 15.6% in the fiscal year that ended June 30, compared to a 26.4% increase in emergency and critical care cases.
"Demand has increased for everybody. Ability to meet that demand has decreased for everybody. And emergency services bear the brunt," Ward said.
A portion of the hospital's emergency patients don't have medical concerns that don't actually require emergency treatment, Walton said. It treats a fair number of broken toenails and serves at times as back-up clinic care for owners whose regular veterinarians are booked.
"We're the overflow," she said.
Those are the types of situations that would be affected by a potential triaging system, which would dictate what sort of cases the hospital's emergency room could take, based on patient volumes and severity as well as staffing levels, Ward said. Discussions are in their initial phases, and the step might not be needed, but it's a policy other small animal hospitals have instituted to deal with rising caseloads, she said.
"We want to make sure that those really sick cases that need us, have us," Walton said.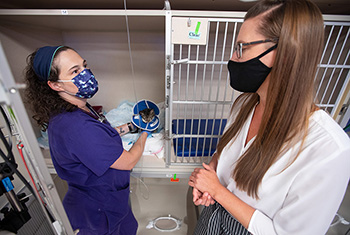 'Hard to say no'
The climbing number of patients has affected all of the hospital's care providers, including staff, students and veterinarians.
A passion for animal care is what draws people to veterinary medicine, said Dr. April Blong, clinical assistant professor of veterinary clinical sciences and a critical care specialist at the small animal hospital. The long hours and work-life balance decisions that come with heavy caseloads test that passion.
"It weighs on everyone," she said.
About 160 students, 140 staff, 40 faculty, and 40 interns and residents work at the small animal hospital, Ward said. Staffing has increased somewhat as cases have risen, but not at the same trajectory, she said.
There are some benefits to higher patient volume. For fourth-year students rotating through the hospital, for instance, the rush has often been a positive, Ward said. It's more hands-on experience to soak up.
The challenges of the past year also have highlighted the care, devotion and talent of the hospital's clinicians, staff and students, Ward said.
"Everyone wants to do the best they can. That's why it's so hard to say no," Blong said.
September 2021
LVMC Client Newsletter Issue Date: