International Week events are open to the public, and we invite all of you to bring all of your friends and family to join us for a week of fun, games, dances, food, and more! Below is the information for I-Week as a whole as well as a brief description of each event.
I-Week Starts off on Sunday, November 7th with World Cuisine day! On Wednesday, November 10th, the fun continues with Bazaar and Game Night. I-Week ends with International Night on Saturday, November 13th.
---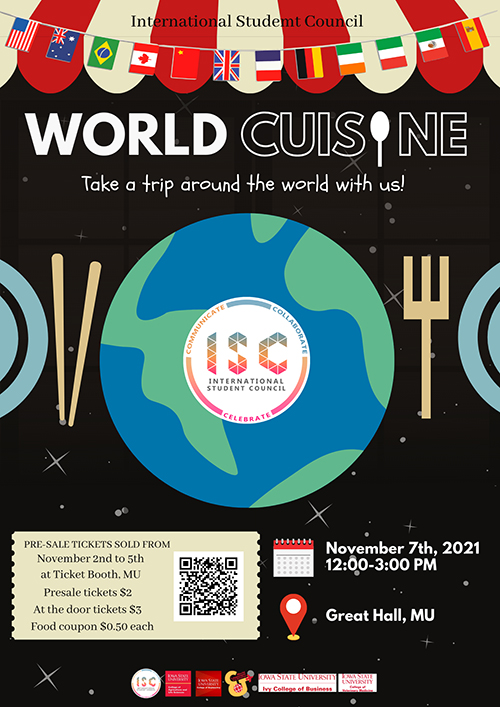 World Cuisine — A ticket around the world
When? November 7th, 2021 at 12:00-3:00 PM
Where? South Ballroom, Memorial Union
World Cuisine is a day that offers international cuisine from cultures all around the world. Sample food, snacks, desserts, and drinks from 8 different countries!
Presale Entrance tickets are sold for $2 from November 2nd to November 5th (8AM-5PM) on the first floor of the Memorial Union booth outside the West Student Office Space. Regular Entrance tickets will be sold at the door on the day of the event for $3. Tickets will be sold in cash only. Food coupons can be purchased during the event for $0.50 (cash only). These food coupons can be redeemed for food to sample at the event.
Note: Presale Entrance tickets only guarantee admission and are not the same as food coupons.
All the proceeds and funds raised from tickets are allocated towards the International Student Council Scholarships that financially assist international students at ISU who contribute to the international community.
---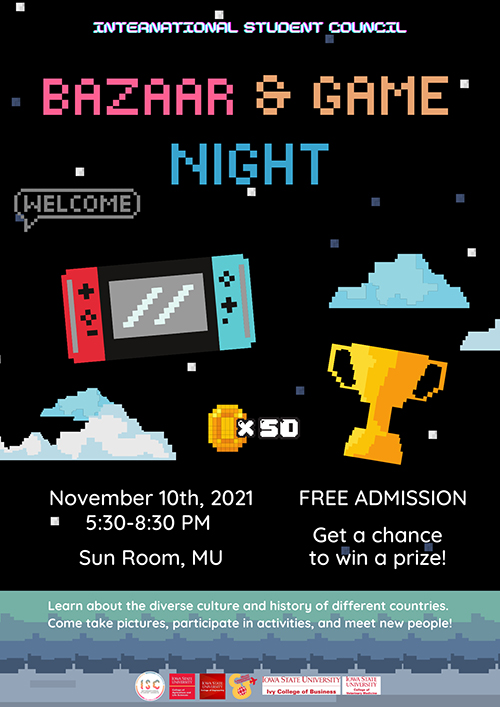 Bazaar and Game Night — Mini-Olympics
When? Wednesday, November 10th at 5:30-8:30 PM
Where? Sun Room of the Memorial Union
Bazaar and Game Night is an event that puts on games and cultural displays from all over the world. Join us at our photo booth, participate in activities like henna, ludo (Indian), carrom (South Asian), origami (Japanese), mancala (East African), and more!
---
International Night — A world tour
When? Saturday, November 13th
Where? Great Hall of the Memorial Union
Join us for fun activities such as henna, dance lessons, photo booth, international karaoke, traditional games, crafts, and more!
Get excited for one of the most thrilling events at Iowa State University to connect the International, Ames, and ISU communities. Come learn and experience different cultures through food, history, traditional games, and performances by various international and multicultural student organizations on campus. For more information, please visit our website or email us!