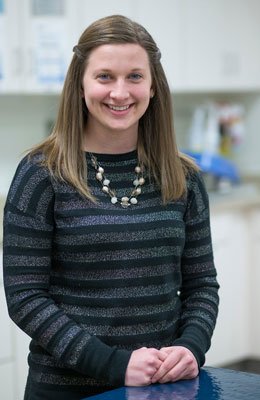 My name is Megan Nickel and I am a third-year veterinary student from Theresa, Wisconsin. I grew up on a dairy farm and completed my bachelor's degree in animal science at the University of Wisconsin-River Falls (UWRF) in 2015. During my time at UWRF, I worked in their animal welfare laboratory, at a local mixed animal practice, and at an emergency and referral center near the Twin Cities. Between my undergraduate degree and entry into veterinary school, I completed an animal welfare internship with Oscar Mayer/Kraft Foods.
At Iowa State University College of Veterinary Medicine (ISU CVM), I became involved with swine and completed an internship with the Swine Medicine Education Center (SMEC) after my first year of veterinary school, followed by an internship with the Swine Veterinary Internship Program (SVIP) after my second year of veterinary school. I am on the executive board for several clubs including, the American Association of Swine Veterinarians (AASV), American Association of Bovine Practitioners (AABP), and the Animal Welfare Club (AWC). I also work part-time for the ISU CVM Animal Welfare Laboratory on various research projects with a variety of species.
As a third-year student, I am in my last semester of the "classroom" that makes up most of veterinary school. I am organizing my fourth-year rotations and preceptorships, which has been exciting and nerve-racking at the same time! At ISU CVM, we get to "track" during our fourth year of veterinary school. Given my interest in swine, I am on the food-animal track.
My advice to students at any level of their education would be to gain experiences outside of your comfort zone. Branch out! It takes time to become comfortable with the concept, but it will open many doors for you in the future.
Once in veterinary school, I quickly realized that it wasn't all about racking up those small animal clinic shadowing hours. It was about gaining a variety of experiences. Looking at my class, we are not a "cookie cutter" model, we all have unique backgrounds and future goals. There are many opportunities in veterinary medicine, so take the blinders off early and pursue those that are of interest to you.
Thank-you for reading!
Until next time,
Megan